The following games are participating in ProtoCON Online on Saturday, January 21, 2023! More pictures, videos, rules and descriptions will be made available as we get closer to the event, so stay tuned! If you are interested in signing up for any of the games below then click on the link here, or with the button below, that will take you to the sign up sheet! All game designers who have games being played, please remember to sign up to play the games of others! That's a super important part of the process if you want others to play your game. Have fun!
In addition to that, you can join the ProtoCON community on Discord and interact with the designers in their own dedicated channels regarding the games that will be showcased. Join the ProtoCON Discord community here!
---
Cake of Doom
Designed by Pearl Ho & Amar Chandarana
3-6 Players
30-45 min playtime
Platform: Tabletop Simulator
Description
Cake of Doom is a 3 – 6 player, casual card game about cakes and aliens with strong 'take-that' elements. Players compete to take over the world by bribing regions with cakes, whilst opponents attempt to foil the bribe by playing baking disasters.
Rules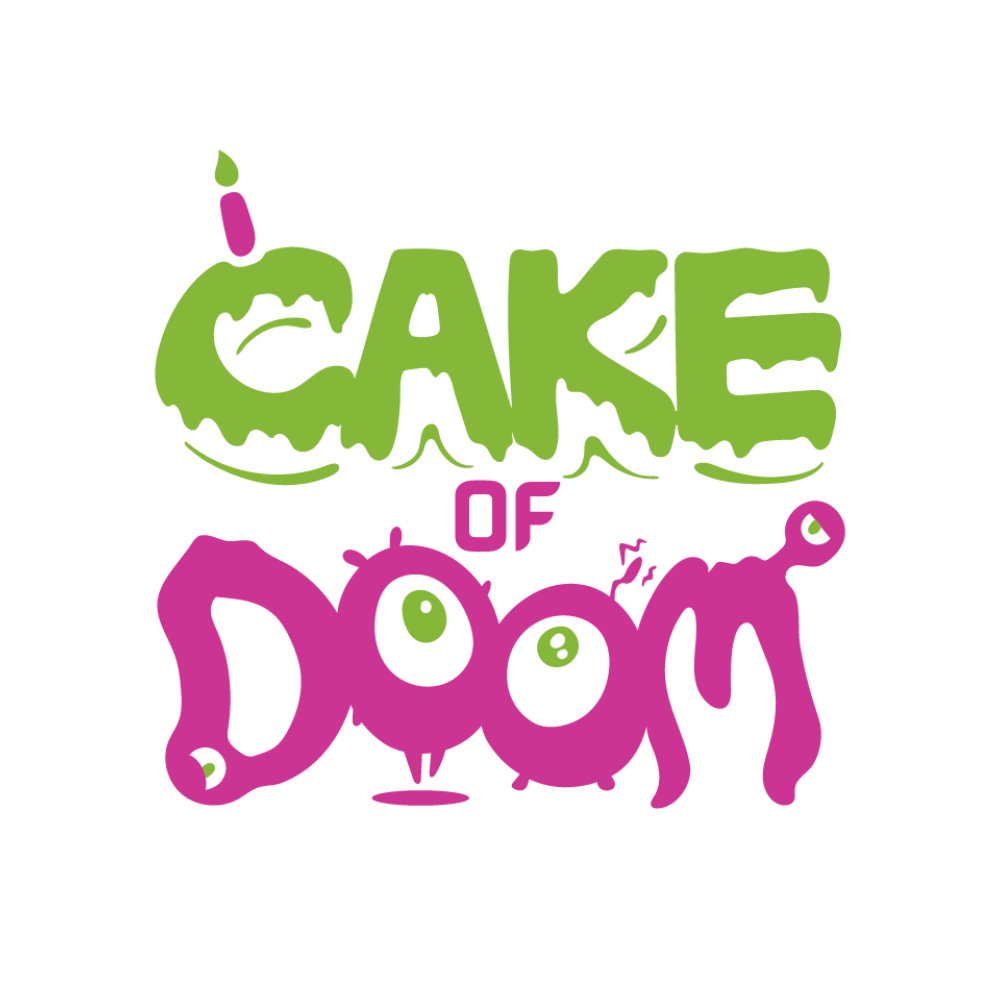 ---
Critter Grove
Designed by Rob Cramer
2-4 Players
30 min playtime
Platform: Tabletop Simulator
Description
Critter Grove is a cooperative tile-laying game about exploring an island while working together to scope out the perfect spots for animals to build their homes. Fit everyone on the island to win!

Players will take turns placing landscape tiles on the board, carving out areas to build animal homes, hiding desert spaces, or exploring peaks to reveal more of the island. Polyomino tiles and a shared board combine to make a unique puzzle experience for the whole family.
Rules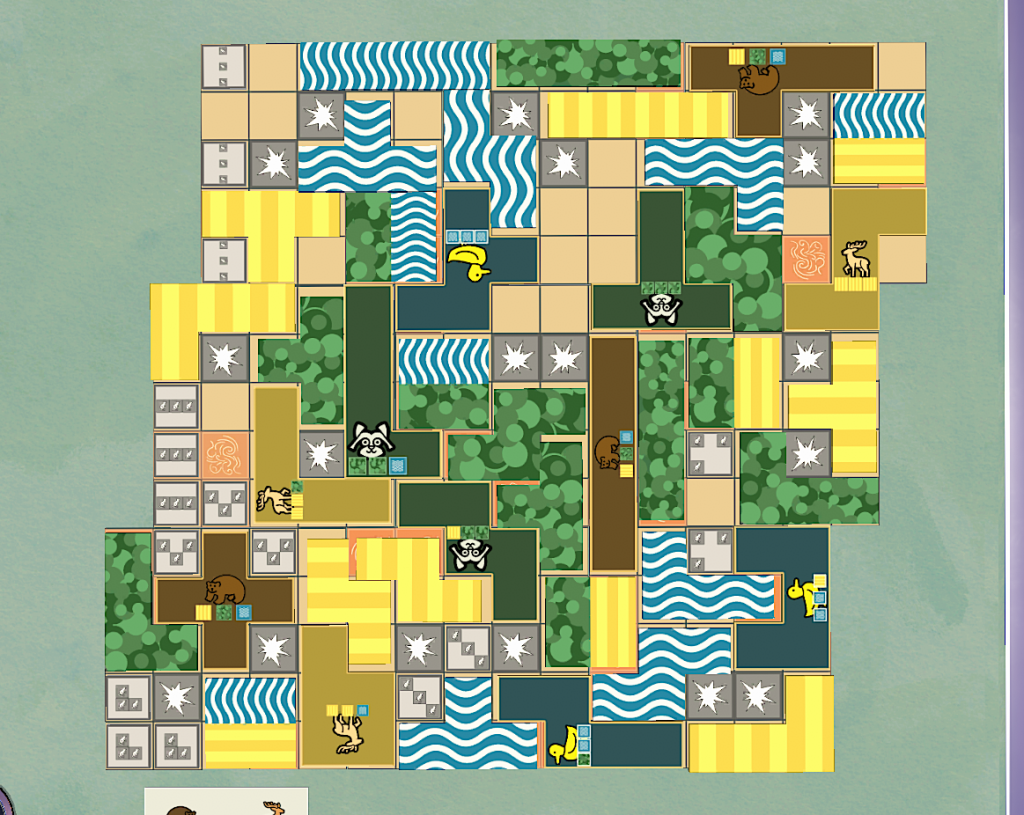 ---
DPCG
Designed by Taylor Cook
3-6 Players
60 min playtime
Platform: Tabletop Simulator
Description
Based on Dude Perfect YouTube channel. A press your luck game with die rolls and cards that alter scores. Participate in various types of rounds earning fans with each victory. Some rounds will see you gain bonuses, others see you receive cards that harm your future chances. The primary method for gaining fans is by winning the battle videos by choosing how much to press your luck prior to rolling a die.
---
Gnome Hollow
Designed by Ammon Anderson
1-4 Players
60 min playtime
Platform: Tabletopia
Description
Since the beginning of time, gnomes have been the humble caretakers of nature. In secret, they emerge from their underground homes to maintain meticulous rings of mushrooms known to the humanfolk as "fairy rings." But the work must be done quickly, because as soon as as a path is finished, the mushrooms are ready for picking. Who will be the cleverest gnome and harvest the most mushrooms by the end of the season?
Rules
---
Lava Leylines
Designed by Anthony Broussard
2 Players
45 min playtime
Platform: Tabletop Simulator
Description
The Serpent army is attacking the island, aiming to eliminate all of the Islanders. The Serpents tunnel under the island, popping up under damaged land. As the Islanders safety from land is destroyed, water tiles are exposed for them to rain down Lava from their volcano. Islanders drown if the land underneath them is destroyed. Serpents are melted by Lava if they end a turn surrounded by 2 or more lava tiles – and then harden to become new land.
Rules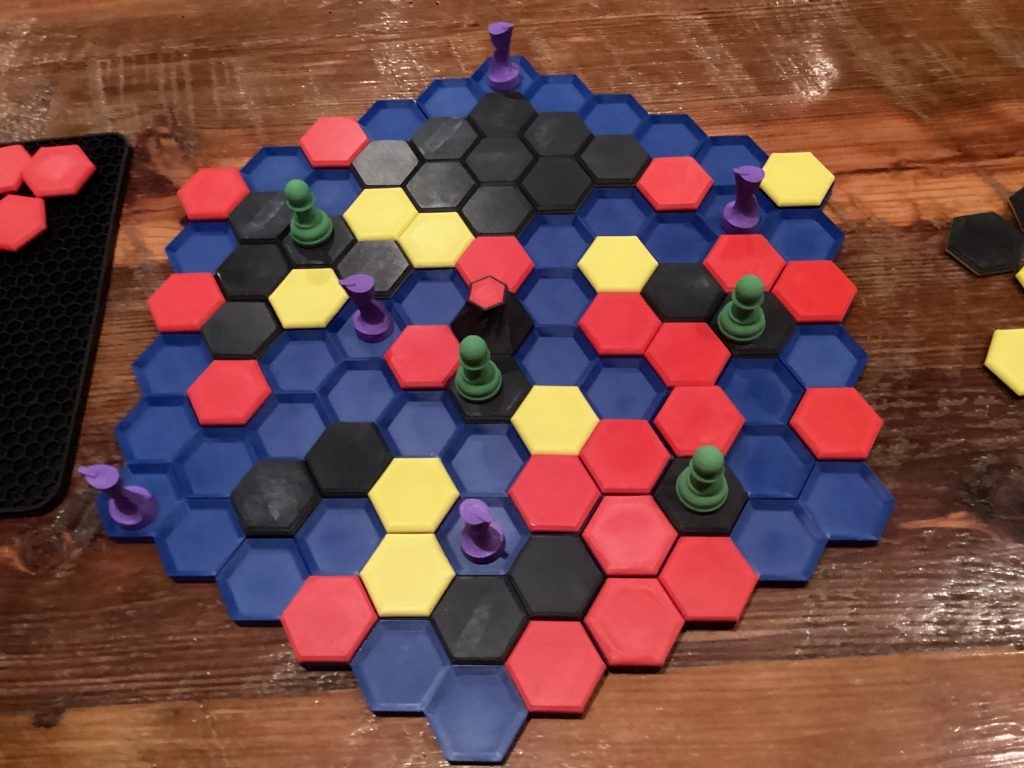 ---
Nobunaga's Revenge
Designed by Dustin Dowdle
2-9 Players
45-60 min playtime
Platform: Tabletopia
Description
Iga was home to one of the biggest and most prominent schools of ninjutsu, the other major school being Koga nearby. Both Iga and Koga were fairly independent cities, which put them in opposition to Oda Nobunaga, a ruthless warlord (also known as the Demon Daimyo or Devil King), at the height of his power, who was systematically pacifying Japan one province at a time in order to fully unify Japan under one rule.
Oda Nobunaga's son, Oda Nobukatsu, was sent on a mission a few years earlier in the area near Iga. Nobukatsu was foolhardy in believing he could easily wipe out this independent spot and attempted to attack Iga. The shinobi from Iga had posed as workers among Nobukatsu's workers who were building a stronghold for him and burned the stronghold to the ground. This infuriated Nobukatsu who then attacked Iga, only to learn he was lured into a trap and soundly defeated, despite the fact he had far superior numbers. Oda Nobunaga was infuriated at his son's defeat and threatened to disown him due to the embarrassment of the fiasco. Oda Nobunaga asked why his son had not hired any of the shinobi for himself, and said this was his son's primary lapse in judgment. Oda Nobunaga then hired shinobi turncoats from both Iga and Koga and is now marching with more than 40,000 samurai in order to completely destroy Iga and any who oppose him. This is where the game takes place. Players will act as Shinobi, who have shifting allegiances between Iga, Koga and the Oda Nobunaga army
Each player is attempting to gain influence with the warring factions. Influence is measured in face down alliance cards in front of each player. The game ends when one of the 3 faction tokens (Iga, Koga or Oda) reaches the Victory space. The player(s) who's most aligned with the faction who reaches the end will win the game.
Rules
---
Terraform
Designed by J.Daniel Woodstock
2-4 Players
45 min playtime
Platform: Tabletop Simulator
Description
Terraform is a Race to the finish strategy game. Change the board to help you and hinder your opponent on your path to send to godhood.
Rules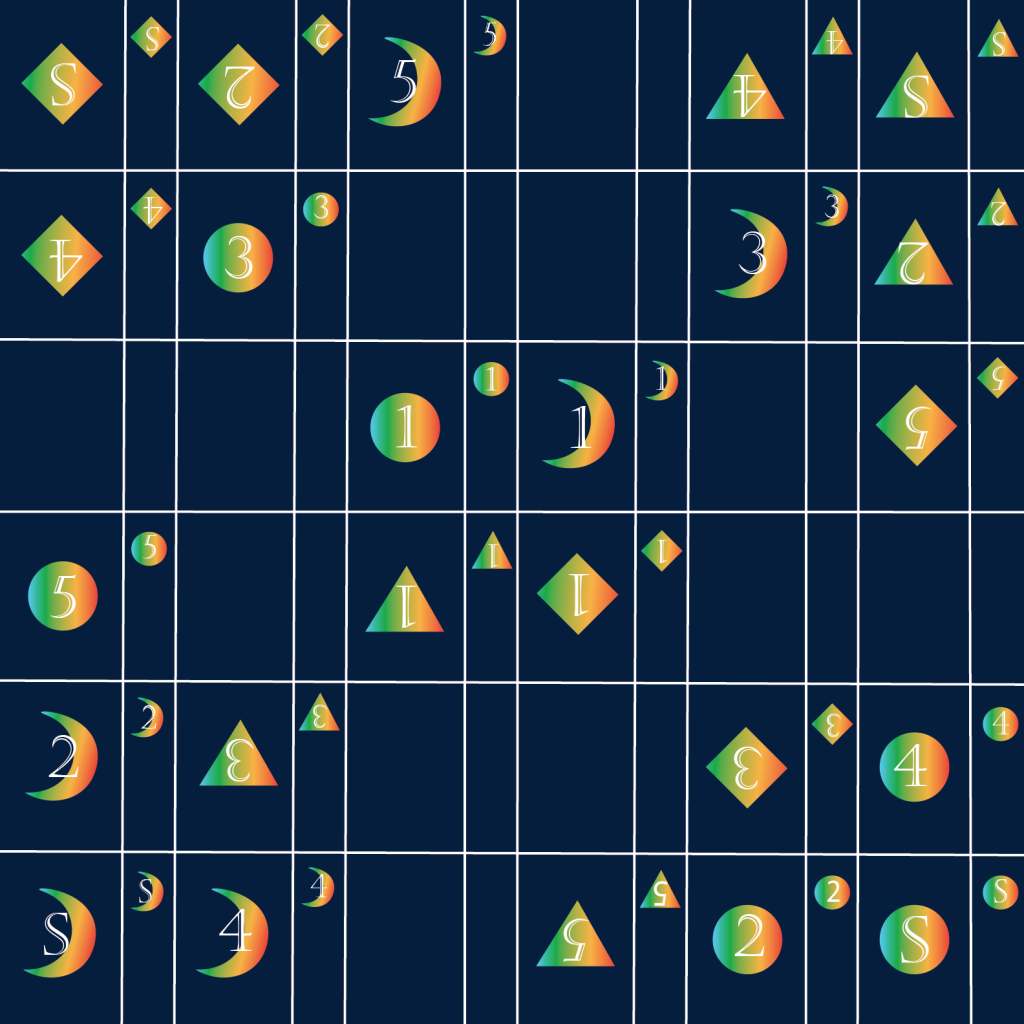 ---
Trinkets & Bones
Designed by Mr Z
2-4 Players
60 min playtime
Platform: Tabletop Simulator
Description
From your dusty and cobwebbed collection, you look down upon the villages and valleys. You don't much care for the people there…but my how you envy their treasures! Crystals, blades, and bones; your army of minions and monsters can collect these treasures for you, but if an opposing collector sends a larger group, they'll be the one to find the books and insects.
Trinkets & Bones features a unique "worker bidding" mechanic, where players can gain an edge in several different ways: 1) Getting to a location quickly, to secure a reward with the fewest minions, or 2) Allocating the most minions to a location to secure the greatest reward. And since scoring the second-highest bid is often more difficult than scoring the highest, there is also a unique reward waiting for the player who sends the second-most minions. The true trinket collector must sometimes master the art of outbidding some of your opponents, but not all.
However you pull it off, you MUST amass a greater collection of antiques and oddities than the other collectors, or else it will drive you insane…or perhaps I should say MORE insane.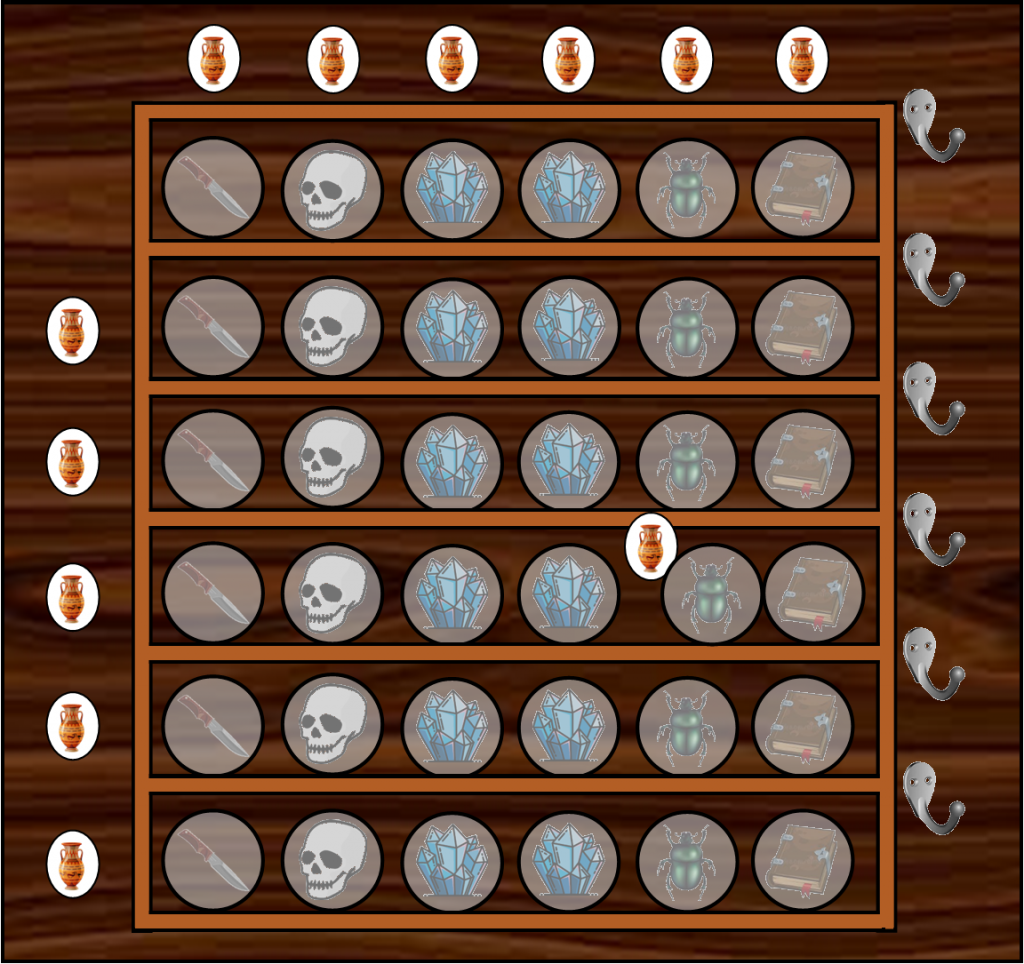 ---
Vine Charmers
Designed by Pinchazumos & Minotalen
2 Players
30 min playtime
Platform: Virtual Tabletop
Description
Vine Charmers is a light co-op tiling game in which two Vinecharmer apprentices help a climbing vine to grow and trying to guide it so that it spreads in specific ways. They do so by playing vine tiles, collaborating despite some communication constraints, with the goal of overcoming 3 Trials.
Rules