I recently attended SaltCON, Utah's largest board game convention. I wanted to share some of my experiences and highlight the lessons I learned from attending this year.

Background to the Story
Some quick background before I get to the lessons I've learned: SaltCON is one of my highlights of the year! I've been attending for three years now and each year is better than the last! As a game designer, I work and plan all year long to prepare myself for this convention. Last December I felt I had a handful of designs that could be ready to show and punched things into high-gear as 2019 ended. This year was a bit unique though. A few of us from the Board Game Designers Guild of Utah (David Gonsalves , Jeff Beck, Skye Larson, Lance Grange and myself) decided to plan an event called ProtoCON that would take place in January. I mention this because one of the games I was most interested in presenting to publishers was picked up by Red Raven Games at ProtoCON. This was of course great news! Seriously, there's really no downside to hearing Ryan Laukat say he's going to do the art for your game, let alone publish it! Now I just had to come up with a game to take to SaltCON, as the other games I was feeling good about back in December were now on the back-burner due to some design obstacles I'd run into. Now I was two weeks from attending SaltCON and no game ready to playtest!

During a drive to Logan (3 hours away from my rural home in Erda, UT) I started to piece together an idea for Knights of the Rectangle, a 5-10 minute tile laying, drafting game. I knew there wasn't much time to throw this thing together, but I thought it was worth tossing into nanDeck with images from game-icons.net and suddenly I had a game that was simple and straightforward.

Thursday, March 5th – SaltCON Day 1
I didn't have many plans for day 1, since the publishers I had approached via email prior to the convention were busy judging the Ion Award finalists. Looking back I should have taken advantage of better identifying other publishers who were not associated with the Ion Award and considered scheduling a pitch on Thursday, as it was certainly the slowest day of the weekend. I had a volunteer shift at the Hot Games area (which was a great way to practice teaching a game, especially for an introvert like myself).
Lesson 1: Think ahead on how to utilize your time at a convention.
In the evening I set up a couple of my games at Prototype Alley, the lighting was dim, though it was located in a much more visible area than in years' past (thanks Dale)! I played several games of Knights of the Rectangle as well as the game that was picked up by Red Raven, all with very positive feedback as well as some constructive ideas for both games. These initial plays were mostly people I knew from the guild, or their friends.

The Awkward Invite
Now came the moment when I needed to stand up and invite passing attendees to come and play my game instead of doing whatever they were actually intending to do. This doesn't come easy for me (I'm not sure if it comes easy to you, but if so then don't tell me… I'd like to believe it's hard for you too). "Do you have 10 minutes to play a game? It takes just 10 minutes!", This was my attempt to let them know I don't intend to take up their evening, but I'd like them to play my game! Some people responded well to this, while others simply walked away saying they had other things to do.
I really dislike this part! In an industry where introverts seem to outnumber extroverts (yes, I know there are a significant number of extroverts who play games too), this is a difficult position to find ourselves in. With that being said, the worst thing I could do is just sit there and believe interested people would flock to my table (Spoiler Alert: they won't)
"Do you like Sushi-Go or Point Salad? Then I've got a game for you!" This is the line that pulled in the most significant playtest of the night. The man I'd been speaking to turned and responded, "Did you say Sushi-Go? That's my kind of game!" We sat down and played Knights of the Rectangle and when the game was over he just sat there staring at the cards now spread across the table after scoring his 3×3 grid of knights. He tapped the table 5 or 6 times and prepared himself to say something once or twice before finally responding "I love it!" He looked at me and said, "I really love this game!" We talked briefly, before he signed my email list I had been generating and waved goodbye. I was ecstatic! The game seemed to be a hit!
Lesson 2: If you want someone to play your game you'll need to work for it! It might be awkward, and you'll face rejection, but keep asking!

Friday, March 6th – SaltCON Day 2
I spent the morning with my kids, playing the games they were most interested in, entering play to win games, checking up on my math trades and bumping into guild members to say hello. I had an hour long demo set up at noon for my designs and wanted to focus on Knights of the Rectangle, as it was the easiest game to play and had such great success the night before!
"Do you like Sushi-Go or Point Salad?" That line seemed to have worked well the night before so I went with it. I had a few negative looks thrown my way. No takers for the first few minutes. "Do you have 10 minutes to play a game? It takes just 10 minutes!" Someone came closer, then they must have registered what I was doing. They apologized and walked away. About 15 minutes in I started to get some people who showed more interest. Over the hour I had several playtests and all resulted positively and all playtesters chose to sign the email list saying they wanted updates on the game and really enjoyed it.

Development Work with Red Raven
I had an appointment with Ryan Laukat and Alex Davis to go over the game we were working on together. Obviously, I'm not at liberty to discuss details of the development of the game at this time. I will mention that it was a very fun experience to mess around with some of the ideas they'd come up with and see them pick apart the game in a really constructive way! We had a handful of people stop by and ask about what we were working on, (we were set up at a table in front of the Red Raven booth) and it was cool to hear Ryan tell them that this was a game he was going to publish and I was the designer of it.
I let them know that I had an appointment with Zev Shlassinger at 2:30 and needed to wrap things up in order to pitch a game at that time. Ryan and Alex asked about the game and I pulled out Knights of the Rectangle and we played a quick game. Ryan gave me some advice in how to structure my pitch. With Ryan I had explained the mechanics of the game, showed some examples of how to score and win then discussed theme to some extent. Ryan said I should completely flip my script and start with a catchy thematic intro, "You have been tasked to assemble the Knights of the Rectangle!" He then said I should highlight how to score and win and then provide whatever details need to be explained before a person could play it.
Lesson 3: When pitching a game, use a quick thematic intro that won't overstay its welcome. Tell them how to win up front then outline any needed details afterward.

The Pitch to Zev
About a month before SaltCON I had reached out to Zev and requested to show him a game while he was in town. Since my main game was under contract I had offered to show him Scoundrels (Ion Award finalist from 2019). Zev responded that he wasn't sure on it but said he'd give it a try. I asked him what kind of game he might be interested in and he replied "I am looking for 'wow' and I won't know it until I see it :)" He requested that I email him again about a week before the convention and we could set up a time. One week before SaltCON I now had Knights of the Rectangle ready, thanks to my color printer, so I offered that up to Zev as an alternative to Scoundrels since he didn't seem too keen on it. He said he'd like to look it over.
Fast forward and now I'm meeting Zev for the fist time and I'm completely unsure of what I'm walking into. Zev was friendly and easy to talk with. He naturally smiles when he talks, which set me at ease. Zev and I chatted for a bit as we walked to a table for the demo. I followed the script (as Ryan had suggested) and that seemed to go well enough. We played the game then counted up our points. The first thing Zev said was "It's cute". Not really what I was hoping to hear. He indicated that he liked the game today but wasn't convinced he'd like the game tomorrow and said it just didn't have enough staying power. He agreed that Knights was great in that it plays fast, doesn't overstay its welcome and was able to do what it sets out to do. He said there's not enough in this design to entice him to believe the game would last more than a few plays and a game of its size needs to feel like it could be played 100 times. We discussed ways to provide modularity to the game, by adding additional Knights, but Zev still felt it was not enough for him. He cordially pulled back from the table and said thanks for the demo but that he would have to pass.
Lesson 4: When designing a small game, be sure it has "staying power".

Saturday, March 7th – SaltCON Day 3
Game Design Panel
I attended a panel featuring Ryan Laukat, Tim Fowers and Brian Kelly. I was glad I took notes because there were some really great things discussed in the panel!
Ryan talked about when your rules fail the players (and they will), to "let your theme speak for the rules". He explained "if they can guess the rule then it's probably right." Games should be designed in such a way that it becomes intuitive to the player. This reminded me of the book "The Design of Everyday Things" by Donald A. Norman which talks about thinking in this way when designing.
Ryan Asked the question, "Why would someone buy this over another game like it?" He also talked about the "Wastepaper Basket method of game design", which basically means, don't get too attached to your game, it's going to change and you should be ready to toss the things that need to be tossed in order to move forward with the design. Brian highlighted the idea of "the quickest prototype possible." Which at times would be hand drawn and other times from the computer, if that would actually save time. He seemed to agree with tossing things without getting too attached. Tim added that "Publishers can squint," so don't worry too much about making it look pretty.
Tim always has such visual language and it's fun to hear him speak. He shared that he believes game designers should do themselves a favor and always work on at least two designs at a time. He said it's helpful to move to the other when the first one "won't behave" then come back when it's ready to cooperate again. He went on to say that he believes designers get overly attached to a single design and it's hard to let it go. He said it's as though they believe they'll never really have another idea as good as this one so they hold on to it tightly. Previously I'd heard Tim talk about this and he said if you want to design a game then that might work for you, but it you want to be a game designer then you need to get out of the mindset that this will be the only worthwhile idea you can come up with. Game designers design games, so go design them!
Tim talked about identifying your "Secret Victory Condition" as a designer and asked the question about designing your game: "If you could only have one, would you take all the money or all the notoriety?" He noted that neither answer was wrong, but said you aught to know your answer because that Secret Victory Condition will help you set you course when determining if you want to seek out a publisher or self publish your game.
Tim discussed visual hierarchy and referred to a paper from Project Horseshoe. Visual hierarchy refers to the things the eye will most likely pick up first. These may be things to consider when creating your games.
Visual Channel Hierarchy Review
Color
Size (game design dependant – grid might keep all elements the same size with a different size)
Shape
Orientation
Texture
Position
Lastly, Tim shared my favorite piece of advice, namely that "being famous doesn't make it easier to get playtesters." He talked about awkwardly asking for people to play his game at the game store, or conventions and said it's just as hard now as it's ever been.
Lesson 5: Asking people to play your game won't get easier. You just have to do it!

Playtesters from the Previous Year Return!
I happened to run into a few playtesters who I'd met last year, as well some from ProtoCON. I had several great conversations, many of which resulted in playing the new games I brought with me. These interactions seemed more genuine and positive than the majority of those whom I had first time interactions with.
Lesson 6: Though repeat playtesters were rewarding to meet up with, don't forget they were once first time playtesters too. Keep asking new people to play your game!
Knights was a hit with most people who played it and my email list continued to grow from the playtests that took place.
Some Non Design Highlights
My kids and I sought out Jaron Frost to play his game Villagers and it was a really fun experience! My son loved it enough that he went to the Play to Win area to check it out with hopes to win it (and he did)! Jaron is a member of our guild and I had been meaning to play Villagers for quite a while now and I'm glad I did! Really simple mechanics, smooth gameplay, lot's of options and loads of expansions for those who enjoy it. This was certainly a highlight of the convention for us!

We also played Cockroach Poker with guild member Lyle Thatcher. This game has been one I've wanted to play for some time now and I was so glad Lyle offered to play it! It was a blast! This will certainly be added to my collection! I'm impressed by it's simplicity and the tension that's built as the game progresses. Lying is a huge part of the game but those who can't lie very well can play that to their favor. Another highlight for us!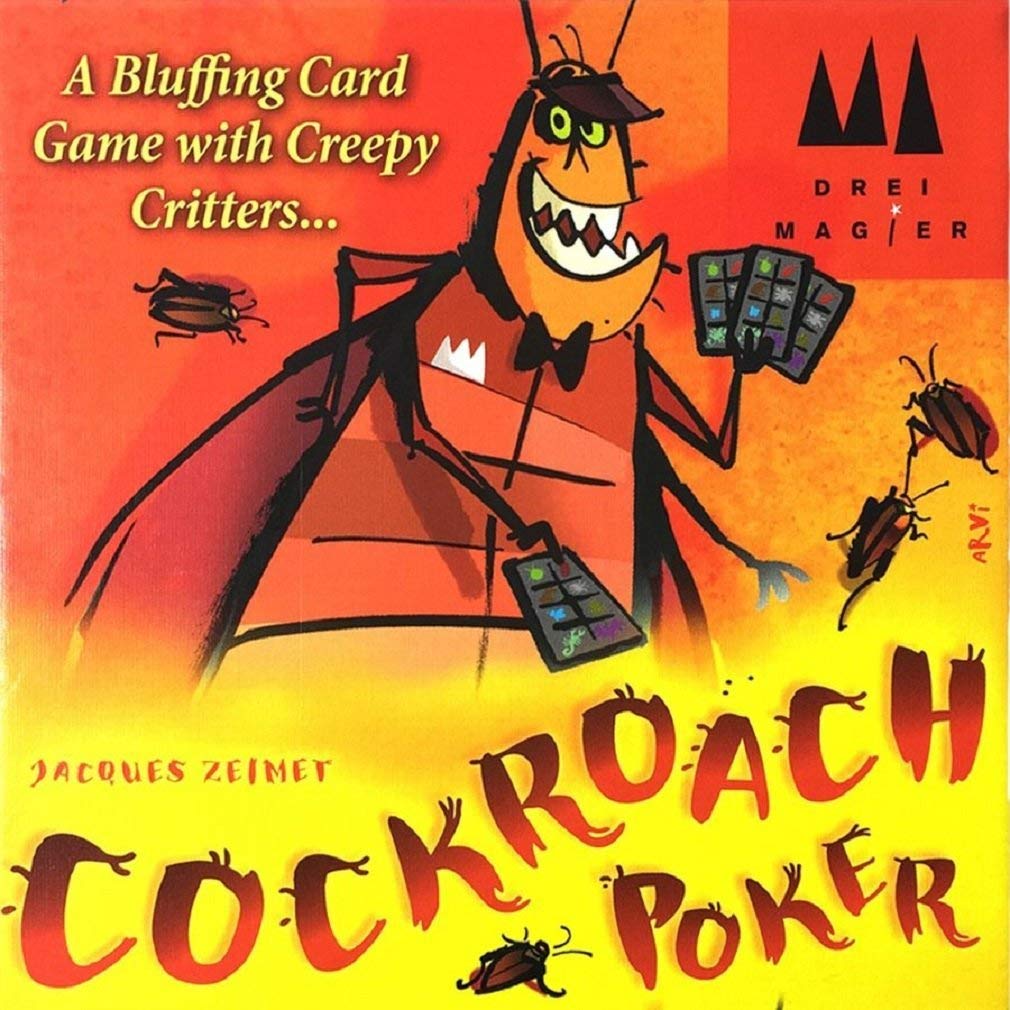 Lesson 7: Don't forget to sit back and just enjoy yourself at a convention!
Lesson 8: Simplicity in game designs can be amazing!
Blue Beard Came to Utah
On Thursday while volunteering in the Hot Games area I had noticed a blue bearded, blue haired man playing Tapestry. I was certain it was Peter Hayward, publisher for Jellybean Games and due to being on my shift I couldn't break away to go and introduce myself. Besides, I didn't want to interrupt him in the middle of something. Having heard him on podcasts say that his favorite thing to do is play people's prototypes, I thought I'd take him up on that when in a less awkward situation.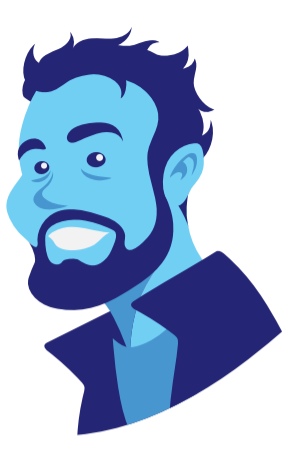 Saturday evening Peter and I sat down and talked game design. Peter's personality is as vibrant as his beard! He took time to play Knights with me and within seconds of the game ending he replied "I can tell you right now this game's not for me." He was direct for sure, but not unkind as he provided some basic feedback concerning replayability and not wanting to count up points the end of a simple game. During our conversation it became apparent to him that this was not my "baby" and I had several other designs in the hopper, including one with a publisher. Peter shifted gears and said something about providing higher level feedback now that he knew it wouldn't crush my spirits (my words, not his). Peter then shared some really valuable feedback about helping your hands do what they want to be doing. We discussed how in Knights of the Rectangle you were constantly faced with doing things that didn't feel intuitive or thematic. He shared examples of games that do this well and games that don't do this well at all. He even used his game Scuttle as an example of something he's grown from and would totally do differently due to this perspective.
We then played one of his games and had just finished when one of my playtesters from Thursday showed up and said, "Darn, I was hoping you were playing my new favorite game!" referring to Knights of the Rectangle (Thank you Doug! You know who you are!) Though it was a small victory in my mind, it didn't wash out all the valuable feedback I was able to gain from talking with both Peter and Zev. We all played another of Peter's designs and I waved them all a goodbye. It was late and my kids desperately needed some sleep and had patiently entertained me as I benefited from my discussions with Peter.
Lesson 9: Don't lose sight of valuable feedback when you get mixed messages about your game. You can easily miss something important if you get in your own way.
Looking Back
As I look back at SaltCON 2020 I'm very happy with the results of my time! I had a lot of fun, met with a lot of friends and I gave the convention everything I had this year in order to make it as successful as possible. I'm walking away with more than I started with.
Now it's time to start preparing for SaltCON 2021 and another shot at the Ion Award!
Lesson 10: It's never too early to start preparing.
Congrats Brandt Brinkerhoff (BGDG Guild Member) on winning the Ion Award this year! After playing Pangea (now called Oros) at ProtoCON earlier this year, I felt pretty confident in your odds!
How to Contact Me
Feel free to join my Facebook Group, Odd Fox Games, to stay up on the projects I've been working on.

You can also listen to The Board Game Workshop podcast and join their Discord as well to learn about contests and things going on there.

Also, we are gearing up for ProtoCON 2021! Join our Facebook group if you are interested in attending as a Designer, Playtester, Publisher or Content Creator! We had a blast last year and hope to make the next one even better!

The Board Game Designer's Guild of Utah also has a Discord and anyone who's interested in the guild can have access to the public parts of that, and full membership in the guild will grant you additional access. Come and join in on the discussions!