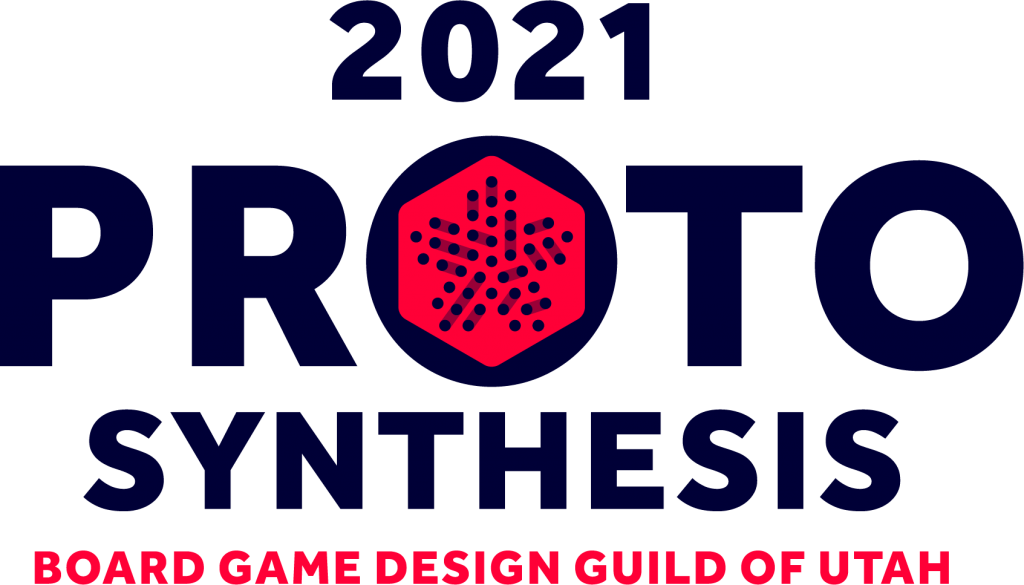 The BGDG of Utah Online Playtesting Event for Saturday 02/27/21

A big thanks to Brandt Brinkerhoff who designed the logo and icons for Protosynthesis! They look amazing!

Welcome! Below are the current games available to play at Protosynthesis Feb 2021! Please browse through all the participating games and when you find the ones you are most interested in then you may sign up to playtest any number of games by clicking the button below:
Each game is scheduled in either 1 or 2 hour blocks of time to ensure there's opportunity for feedback. If you sign up to playtest a game then please ensure you arrive on time. Some games require Tabletop Simulator in order to play while others can be played on Tabletopia, which will be noted below as well as on the sign up sheet.

Also, most communication prior to, during and after the event will take place on THIS DISCORD SERVER! Please join in order to participate in the event. Each game will have a folder containing a text channel as well as a voice channel. The text channel is a great opportunity to engage with the designers of these games prior to and after the event. The voice channel will be used during the actual playtest so it will be important to join in order to participate.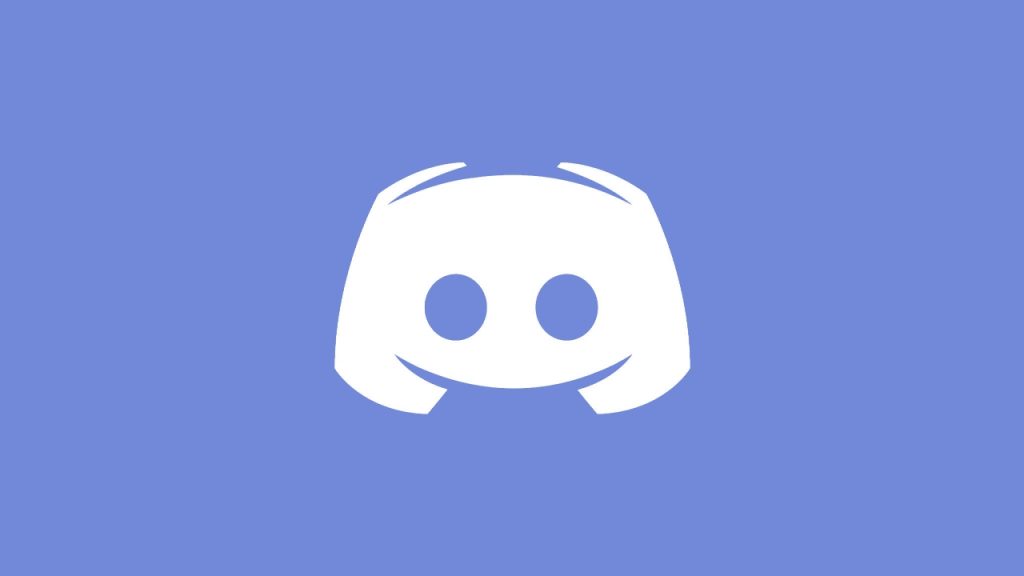 Be sure to join the Protosynthesis discord (click the link or image above) in order to stay up to date on the event! We've opted not to ask for email addresses so this will be the main hub of communication!
---
---
Curiosity Shop
Designed by Jeff Beck
3-5 Players
45-60 min playtime
Platform: Tabletopia
Description
In Curiosity Shop, you play as a shop owner, hawking your oddities and making deals with other players. During the game, you will be building a tableau to improve upon the goods you have available in your shop – but here's the twist: the tableau is not for you. Players are unable to use their own cards and instead must negotiate with other players in order to use theirs. Curiosity Shop is a highly interactive game of wheeling and dealing to see who comes out on top.
Rules
Curiosity Shop Rules

---
---
Faction Fighters
Designed by Aaron and Paige Treglown
2 Players
30-45 min playtime
Platform: Tabletop Simulator
Description
Faction Fighters is a head-to-head card battling adventure. Experience a unique simultaneous selection system, concise-approachable gameplay, and emergent tactical depth. Explore 15 different factions and 4 area decks. Timing is everything as you bluff or bolster your way to victory!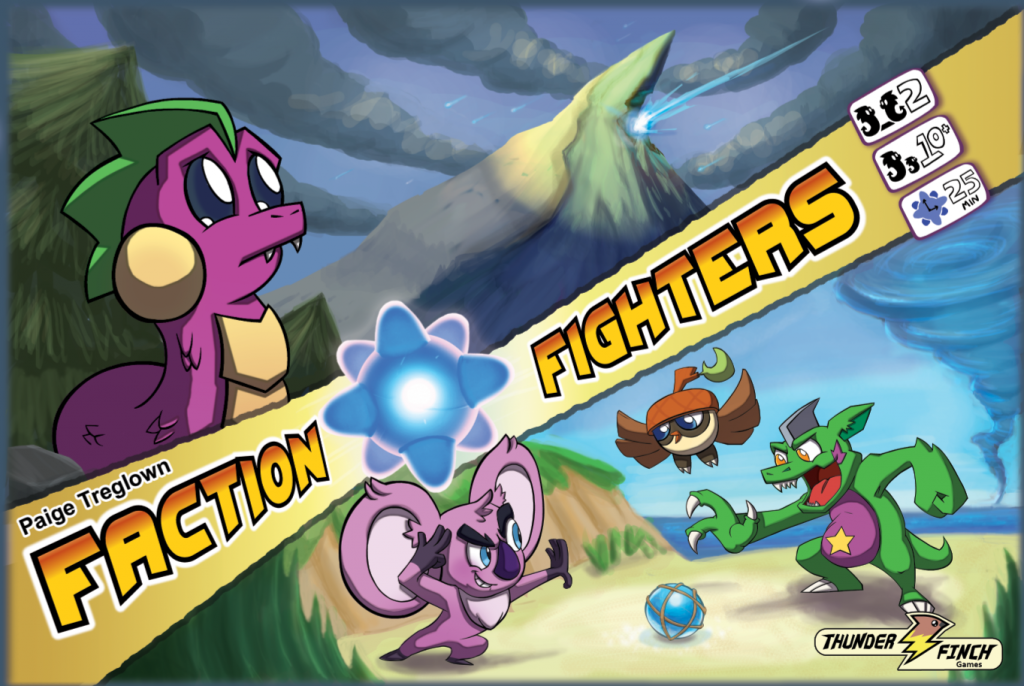 ---
---
Fate & Fae
Designed by Skyle Larsen
2-5 Players
60 min playtime
Platform: Tabletop Simulator
Description
Fate & Fae sends players to a corrupted fairy tale kingdom where they must reclaim areas of the city, fight corrupted creatures, recruit townsfolk, and topple the corrupt king. Players can choose to work together to prevent sweeping attacks from the calamity deck, but only one player will beat the corrupted king and consequently claim the crown. Primary mechanics include both bag building and tableau building.
Rules
Coming soon!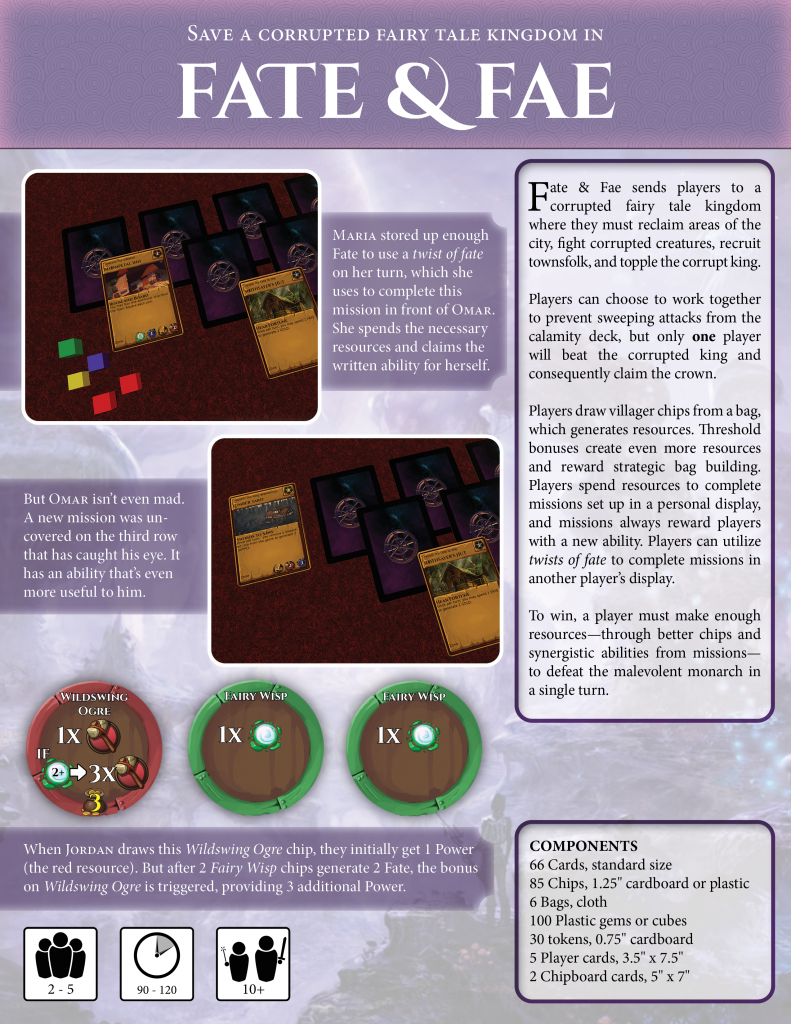 ---
---
Gnome Hollow
Designed by Ammon Anderson
2-4 Players
30-45 min playtime
Platform: Tabletopia
Description
Gnome Hollow is a spatial, tile placement, worker placement game where you grow a tabletop garden of mushrooms and flowers. Each piece is a hand painted watercolor that captures the whimsical feel of gnomes and nature. Players strategically place tiles and gnomes to harvest the most mushrooms and please the fairy creatures of the hollow. Gnome Hollow leverages a rain mechanic to drive strategic harvests. Each time a rain tile is played, it rains, and gnomes harvest their completed mushroom circles. Clever players will want to create concentric circles on the game board. This strategy enables gnomes to harvest not only the large circle they have connected, but also every wild mushroom and smaller circle inside of it. As the game progresses, it is as much about playing a beautiful game as it is a wonderful journey to strategically outplay your opponents. Come to Gnome Hollow and experience a peaceful garden, the anticipation of a much needed rainfall, and the thrill of competing to harvest buckets of mushrooms. Gnome Hollow is a game for two to four players. It plays in 30-45 minutes.
Rules
Gnome Hollow Rules
---
---
Oros
Designed by Brandt Brinkerhoff
1-4 Players
30 min per player playtime
Platform: Tabletopia
Description
The Wise One, immortal keeper of wisdom and knowledge, has sent you, Demigods endowed with power over the elements to the far reaches of humanity. Your objective is to bring the mysteries of the mountains to the people scattered across the islands of the earth. Creativity, ingenuity, and skill will be required to form immovable mountains then guide your Followers to those lofty peaks where they can build sacred sites of study and obtain for themselves the higher knowledge.
Rules
Oros Rules
---
---
RPS Fighter
Designed by Matt LeGare
2 Players
30 min playtime
Platform: Tabletop Simulator
Description
A yet-to-be-named take on a RPS Fighting system depending on reading your opponents possible moves based on the current form they're in.
Rules
RPS Fighter Rules
---
---
Septet
Designed by Dustin Dowdle
2-4 Players
10-15 min playtime
Platform: Tabletopia
Description
In Septet, players are attempting to gain points through collecting sets of matching suits of cards. Once a suit has a total value of 7 among all players, then those cards are scored immediately and all other cards in play are discarded. Star cards have special abilities and can be used strategically, including Forbidden (purple) cards which can be played as any color but are worth negative points at the end of the game. Once the end of the game is triggered then the player with the most points wins!
Rules
Septet Rules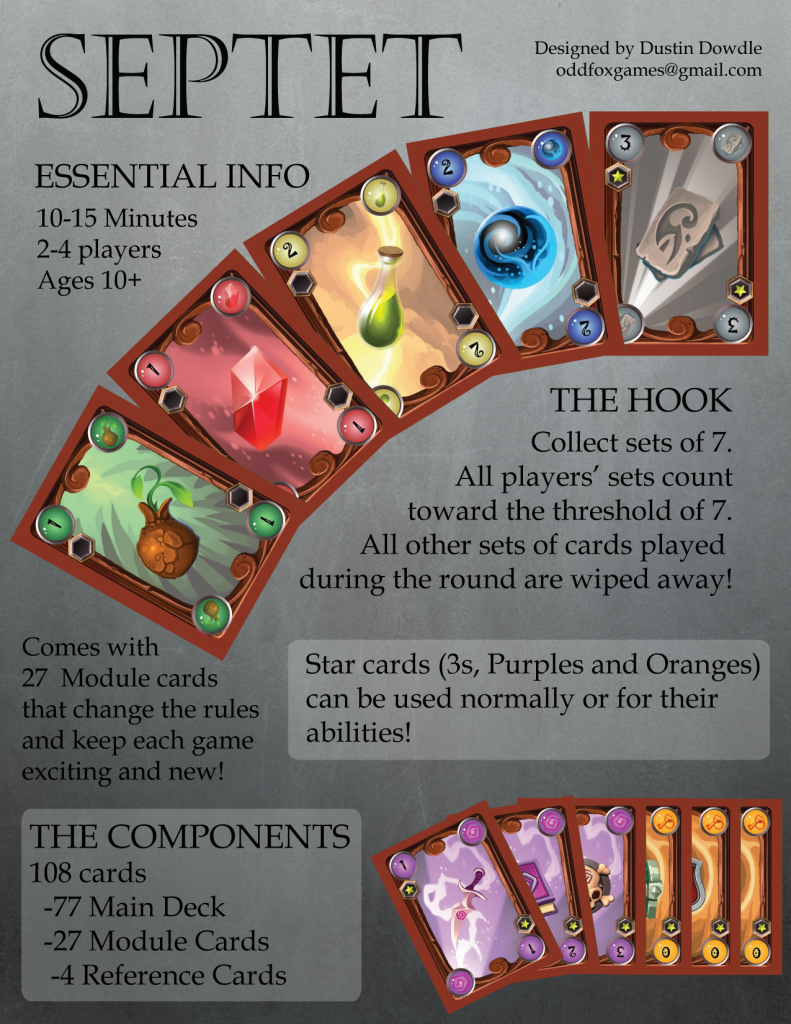 ---
---
Solar Delivery
Designed by Riley Stock
2-4 Players
90 min playtime
Platform: Tabletop Simulator
Description
Players compete to be the best delivery service in the universe. Pick up and deliver cargo planet to planet. Keep in mind that planets rotate around the sun. Upgrade your ship to hold more fuel and cargo. Add up VP at the end to see who has the best delivery service.
Rules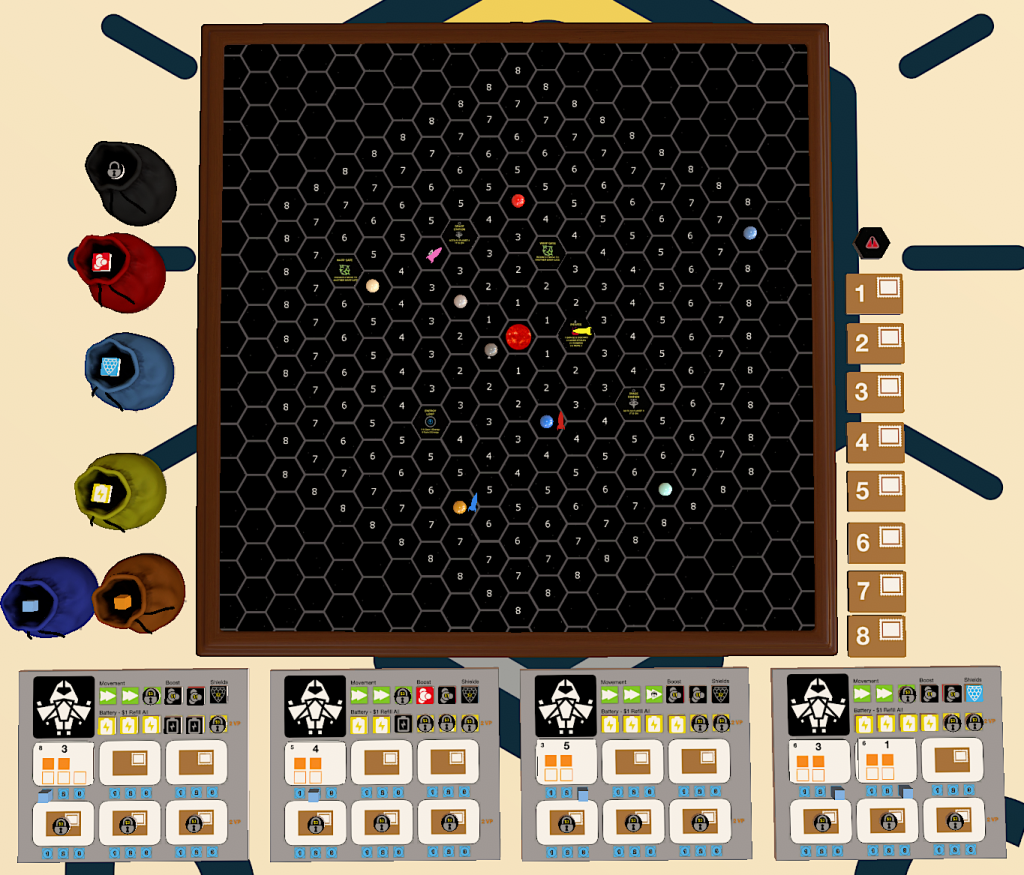 ---
---
Spellweaving 101
Designed by Robin Armstrong
2-5 Players
30-60 min playtime
Platform: Tabletop Simulator
Description
It's the end of your first year as an Apprentice Spellweaver, which means it's time to demonstrate your mastery of the basics of spellweaving. You and your fellow Apprentices are gathered together in one of the great Training rooms and instructed to weave as many powerful, two-word spells as you can in a certain amount of time. Unfortunately, you all stayed up late last night "studying", and now all the spell words are jumbled in your mind. By quickly sorting through what you do remember, carefully listening to the other Apprentices, and using some of the characteristics of the seven Aspects, can you weave the most impressive spells and be named Apprentice of the Year?